Ending your test
Your test does not automatically end when you click the following buttons (based on the type of question you are answering):
Submit

Submit Project

Compile and Test

Execute and Test
To end a test, you must click End Test.
What happens when you click End Test?
When you click End Test, the following information is displayed on the screen:
Time remaining until the test ends

Summary of questions that you have not answered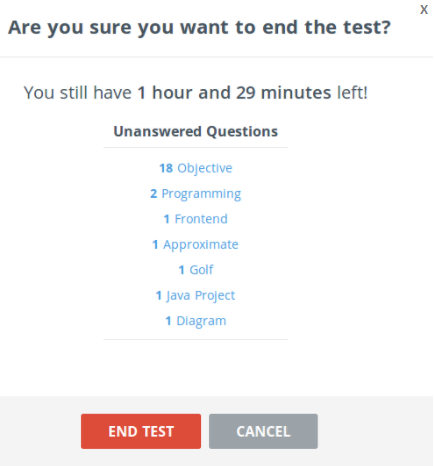 Ending your test
You can end your test by following these steps:

Click on the test screen.

A popup, with information about the time remaining till the test ends and the number of unanswered questions, is displayed on the screen.


Click End Test to end the test.

After you have ended the test, you will not be able to access the test irrespective of the amount of time that is remaining.

Notes
If you click End Test by mistake, click CANCEL or X to go back to the test.

This popup appears in all tests irrespective of the question types in the test.