Company settings
Company settings allow you to change information about your company, add or remove team members, manage payment methods, and set the language of the dashboard.
Where can I find these settings?
You can find the personal settings on the HackerEarth Recruit dashboard.
To find the company settings, follow these steps:
1. Go to HackerEarth's Assessment dashboard.
2. Click Billings and Settings at the top right of the dashboard.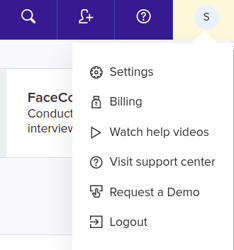 3. Click Settings.
You will find all the settings on the page.
What settings can you make here?
Company information
You can see the information about your company here. This is the same information that was provided when you bought your HackerEarth Recruit subscription.
For more information, see Company information.
Team Members
You can view team members, add team members, assign roles, and manage team members here.
For more information, see Team members.
Payment
You can add, view, and manage payment methods here.
Click on the administrator dashboard.
Click Settings.
In the COMPANY section, click Payment.
Click Add New Payment Method.

For more information, see Billing.
Language
You can set the language of your choice here.
Company languages: Set the language in which your dashboard must be opened initially

Allowed languages: Set the languages in which you can toggle and view the dashboard
For more information, see Language settings.
Terms of use
You can define the terms and conditions of your company which will be visible to the candidates before the assessment.
For more information, see Adding company-specific Terms of Use.