Extending the test duration for candidates
The Extend time option allows you to give candidates extra time (apart from the original test duration) to complete their tests.
Note: This is not applicable to candidates who have not started the test yet.
To extend the time for candidates, follow these steps:
Log into HackerEarth Recruit using your admin credentials.
Click Tests.

Important: You can extend the test duration only for ongoing or completed tests.
Select the test for which you want to extend the test duration.
Under the Candidates section, click Test taken.
Click Extend time.

Select the candidates whose test duration you want to extend. There are three categories of candidates:
1. For online candidates: The candidates who are currently taking the test.
Important: This will only be visible when the test is live and being taken by the candidates.
2. For all candidates: All the candidates who are invited to take the test.
Important: If you select any one of these options, the text box to enter email IDs is disabled.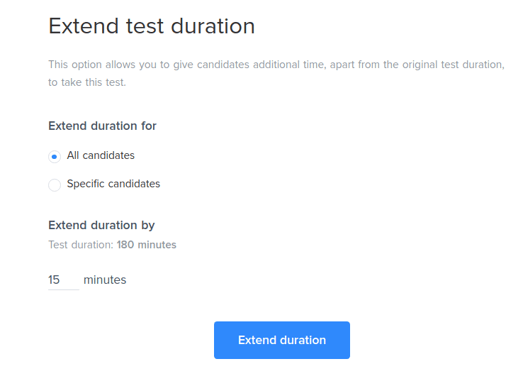 3. For specific candidates: You can extend the time for specific candidates.

Important: If you select this option, you must enter the email IDs of the specific candidates.


7. Enter the extra time (in minutes) that you want your test to extend for.
8. Click Extend duration.
You will receive a notification confirming the extension of the test duration.
Note: You cannot extend the test duration if you select For online candidates, but the candidate is offline.
The candidates whose test duration is extended receive an email on their registered email IDs from the HackerEarth Support Team.