To create a new interview, follow these steps:
Log in to your HackerEarth Assessment account using your admin credentials.
Click FaceCode.

You will have two options visible to you

Schedule interview later
Get interview link

1) Schedule interview later
Click Schedule interview later.



You can select Single interview or Multiple interviews. Single interview will create a single interview invite but if you want to send multiple links to multiple candidates, you can select Multiple interviews.
On the Schedule interview page, enter the following details:
Interview information
Title: Enter the name of the interview. For example, ML Engineer interview.
This information will set the expectations for other interviewers and help them understand what type of questions to ask during the interview.
Date and time
Date: Date on which the interview is scheduled
Start time: Time at which the interview is scheduled to start
Time zone: Time zone where you reside. The interview time in the emails sent to the interviewers and the candidate will be from this time zone.
Interviewers
Here you can view the names and email IDs of the interviewers who you have invited for the interview.
Adding interviewers
You can invite more interviewers to participate in your interview. You can add up to 4 interviewers including yourself.
For more information about adding more interviewers, click here.
Candidate information
Name: Full name of the candidate
Email: Email ID of the candidate
Country code: International dialing code of the country in which the candidate resides
Phone number: Candidate's contact number (mobile or local numbers)
Interview evaluation
You can choose the type of evaluation for the interview. The two options are the following:
Automatic evaluation
Custom evaluation
Click Schedule interview.
You have successfully scheduled your interview.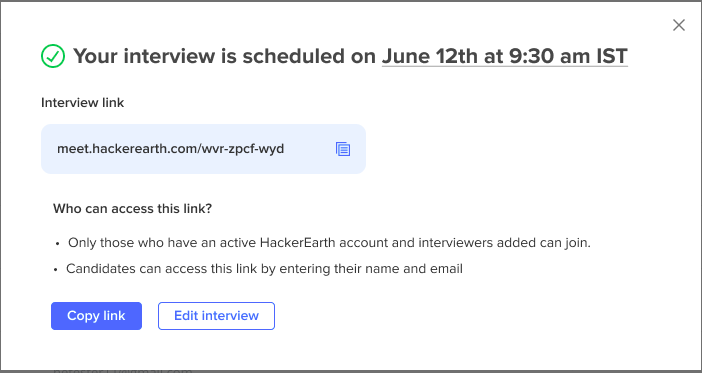 Interview details to the candidate
After the interview is scheduled, the candidate receives an email that contains the following interview details:
Company name: The name of the company that has scheduled the interview.
Date: The date and time when the interview is scheduled.
Add to calendar: Now, the candidate can add the interview to his or her Outlook Calendar, Google Calendar, and iCalendar. To know more about how the candidate can synchronize the interview to the calendars, click here.
Interview link: Click this link to join the interview. The candidate does not have to sign in into HackerEarth to join the interview. The candidate is provided with automatically-generated credentials that allow him or her to log in to HackerEarth FaceCode and Assessments.
2) Create interview link
1. Click Create interview link.

2. You will get an interview link ready which can be directly sent to the interviewers and candidate. The interviewers should have an active HackerEarth account. You can easily customize all the details of the interview by clicking Customize interview.