This is a premium feature. To enable this feature, contact support@hackerearth.com.
The U.S. Equal Employment Opportunity Commission (EEOC) is a federal agency that administers and enforces civil rights laws against workplace discrimination. EEOC investigates discrimination complaints based on an individual's race, children, national origin, religion, sex, age, disability, sexual orientation, gender identity, and genetic information.
It is also illegal to discriminate against a person because the person complained about discrimination, filed a charge of discrimination, or participated in an employment discrimination investigation or lawsuit.
Now, HackerEarth Assessment and Live interviews are EEO compliant. HackerEarth has always strived to practice fair and unbiased assessments. Therefore, to enhance the candidate experience and ensure fairness in tests or interviews, we have added the following features that make your tests compliant with EEOC guidelines:
Adding EEOC guidelines
Super admins of your company can edit the company's EEOC statement. To add customized EEOC guidelines that you want your test to be compliant with, follow these steps:
Log in to your HackerEarth account by using your admin credentials.

Click Settings.

In the Company section, click EEO compliance.
Enter the title of your Equal Employer Opportunity statement.
Enter the Compliance statement that you want your test to follow.
Click Save Changes.

You have successfully entered the EEOC guidelines that you want your tests to be compliant with.
These statements are displayed to candidates before they enter the test.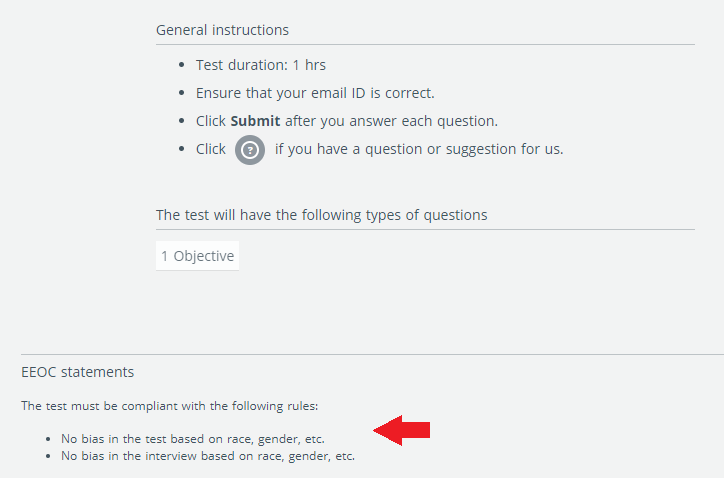 Admins of your company can also view these statements at the bottom of a candidate's report.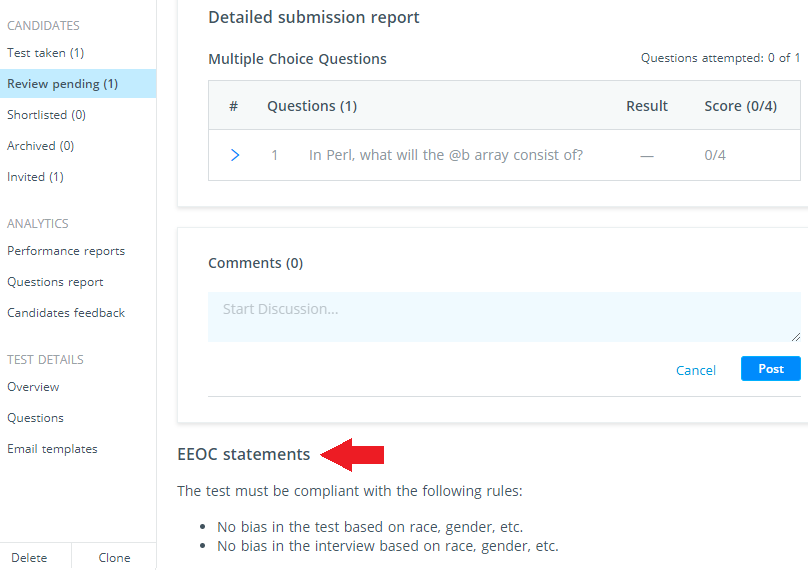 Suggesting shortlisting guidelines
HackerEarth displays suggested shortlisting guidelines so that your company is EEO compliant while hiring candidates. To view these guidelines, follow these steps:
Log in to your HackerEarth account by using your admin credentials.
Click Tests.
Click the name of the test in which you want to view the shortlisting guidelines.
In the Candidates section, click Test taken.
Note: You can also view these guidelines in Review pending, Shortlisted, and Archived.
Click Click here in the message that is displayed at the bottom of the page.

You can successfully view the suggested guidelines to shortlist candidates.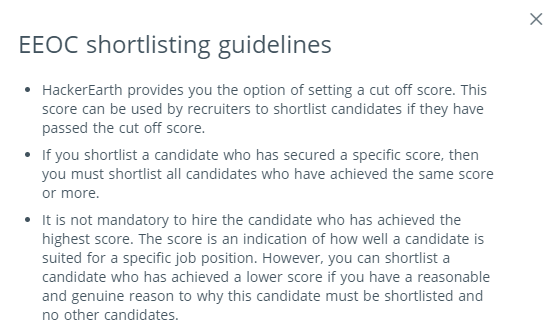 HackerEarth also displays a popup when you shortlist your first candidate that emphasizes being this shortlist EEO compliant.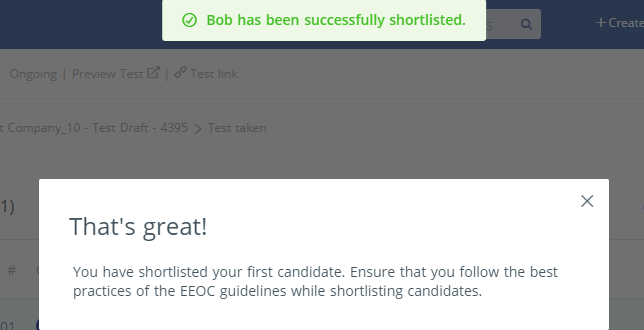 Displaying warning messages
HackerEarth displays a warning message that informs you when you select non-EEO compliant details of candidates that you want them to provide before starting the test.
This message is displayed in the Candidate settings where you select the details that you want candidates to provide before starting the test.