Test settings allow you to customize your test based on your requirements. For example, you can control the look and feel of your test, add multiple proctoring mechanisms, restrict IP addresses from which the test can be taken, etc.
Where can I find the test settings?
You can find the test settings in the Test Details section by clicking Overview.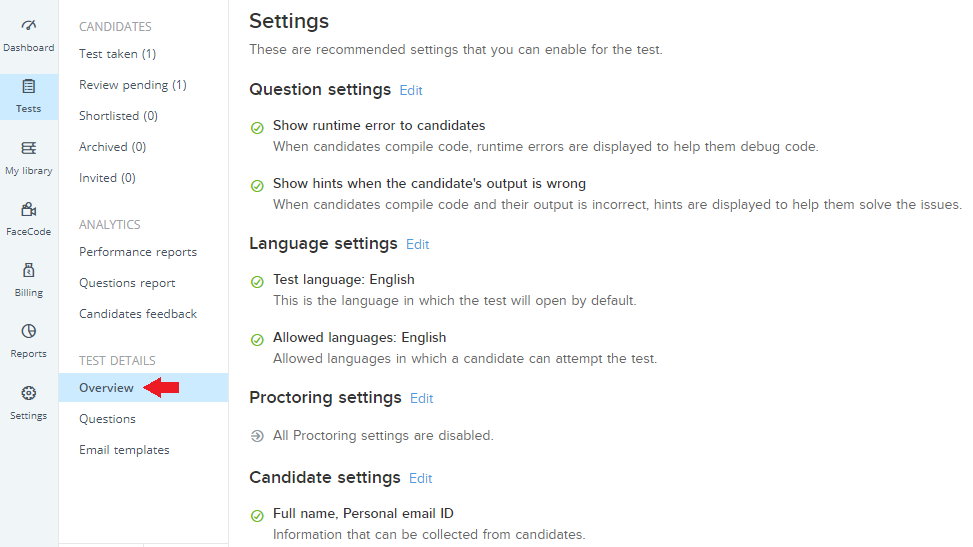 What settings can you make here?
Time settings
You can set the start and end dates, time, and test duration here. This section also allows you to disable or enable access to a test.
For more information, see Time settings.
Question settings
You can make settings related to the questions in the tests that you create, here. Set cut-off scores, shuffle questions in the test, and help candidates debug their code effectively.
For more information, see Question settings.
Candidate settings
This section allows you to select the details that you want the candidate to provide before starting the test.
By default, the product provides a list of the most common details gathered by recruiters.
For more information, see Candidate settings.
General test settings
You do not need to make any settings here. This section is just for your information and provides the following:
Test link: The long URL of your test.
Short link: The short version of your test URL.
Test ID for Recruiter API: This ID is used to define which test is used for actions like inviting candidates, viewing reports, etc. when using HackerEarth Recruit's APIs.
Password settings
Note: These settings are applicable to public, password-protected tests only.
When you do not set a password for the test, anyone who has the link can access the test.
If you have chosen not to add a password to a test, you cannot add a password after the test is published.
Report settings
This option is not selected by default. Select this option to receive a candidate report whenever a candidate takes your test.
Proctoring settings
These settings enable you to supervise candidates during an online test. You can make various settings in this section such as confirming the identity of the candidate who is taking the test while ensuring the integrity of the test environment, making a candidate remain in the test environment, etc., to ensure that the test is fair for all candidates.
For more information, see Proctoring settings.
Admins for this test
In this section, you can do the following:
Add or remove administrators from the test
Manage permissions that each administrator is given
Set a point of contact whose email ID will be used to send emails to candidates and receive emails from candidates
For more information, see Managing admins.